CARL BANKS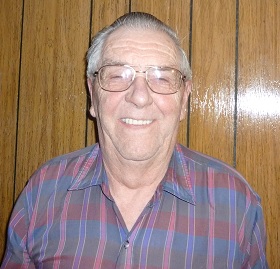 Carl was born in Lawrencetown, Annapolis County, NS on February 9, 1941 to Ronald & Charlotte (Foster) Banks. He had three sisters & is the grandson of Owen & Clara (Milbury) Foster, Maplewood.
At twelve years old, while helping to make hay, Carl had an encounter with the horse & hay rake. The steel wheel caught on the edge of the pavement & spooked the horse who took off with Carl riding on the rake. Hoping to stop the horse or at least slow it down he headed for the barn door. The wheel hit the door & it came down on Carl's head. He then fell & the horse began to kick him several times in the back of his head. It was thought that he had a broken neck but instead had a bad concussion.
Carl married Marion Chute in Paradise on April 2, 1966.
His working life was spent in construction until back surgery required him to retire from that occupation. He then became a mail driver until he & Marion moved to Maplewood in 1999.
Carl loves fishing & hunting & both he & Marion enjoy taking camping trips in the summer & volunteering for the Jehovah Witnesses.
Marion's father, Charlie Chute, made snowshoes until he became ill with ALS. He wanted someone in the family to learn & continue the craft. Carl became interested & has since made over two hundred pair! He has donated several to the museum for fundraising & this pair for our collection. He has also demonstrated for our events.
Carl says "It's been a good life!"