MARION BANKS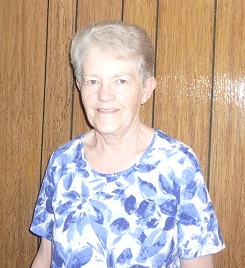 Marion was born in Prince Albert, back of Middleton, on May 12, 1942 to Charlie & Myrtle Chute. She has four sisters & one brother.
Marion was the first grandchild so she was considered very special to her grandmothers. One Grammie took care of her when she was little. Marion loved visiting with her as she was growing up. This time holds wonderful memories for Marion.
She worked for many years as a janitor & also as a real estate agent retiring in 1992. She has been a campground hostess as well. She volunteers with the Jehovah Witnesses & loves to travel with Carl as they camp during the summer.
Marion married Carl Banks on April 2, 1966 in Paradise.
She became interested in painting while attending a class at school. This interest developed throughout the years & Marion has painted over one hundred & fifty beautiful creations. She has donated several to the museum for fundraising & this one for our collection.
Marion's talent continues as she creates while enjoying living in Maplewood.